Hundreds of California prisoners are entering their third week of a hunger strike to win five eminently reasonable demands related to conditions in the Secure Housing Units (SHUs).
According to
solidarity committee
members, many of the men (and possibly some women) are in serious medical danger. On
Democracy Now!
on Friday, solidarity committee spokespeople Dorsey Nunn and Molly Porzig said that some of the strikers are near death.
I'm really upset to hear that, because it's very clear that as of now, there is nowhere near the type of mobilization outside the prisons that will be needed to win significant concessions from the California Department of Corrections. The reason there's a federal receiver for health care in California prisons is because,
according to the judge
, "on average, an inmate in one of California's prisons needlessly dies every six to seven days due to constitutional deficiencies in the CDCR's medical delivery system." Now the spokesperson for the receiver told the
San Francisco Chronicle
that "They have the right to choose to die of starvation if they wish." So clearly, prison officials are not highly motivated to make sure that prisoners do not die in their custody.
A friend of mine said on Thursday that he had called
Senator Mark Leno
's office to ask them to pressure CDCR to negotiate seriously with the inmates. He was told that Leno, who introduced the California Single Payer health care bill and is one of the more progressive members of the Senate, has no position on the strike yet.
The hunger strikers frequently invoke the example of
Bobby Sands and the other Irish political prisoners
. I think they may not know, however, as much of that history as it would benefit them to know. For instance, the 1981 strike was the second hunger strike by those prisoners. The first, in 1980, ended with a tentative agreement that the British then reneged on. In contrast to the 1980 strike, when all the prisoners refused food simultaneously, in 1981, the prisoners struck one by one, so as to build on each subsequent death. Another thing they should know is that that protest was the culmination of five years of increasingly militant protests by the hunger strikers, all of which were supported by tens of thousands of demonstrators on the outside – and that was only in Ireland. Bobby Sandsbecame a household name all over the world by the time of his death, and had been elected to the British Parliament. 100,000 people attended his funeral. But even his death did not get it done. Nine more prisoners died of starvation before the others ended their strike in response to pleas from their families. It was only after the strike ended that most of the demands were met.
In November 2009, in preparation for the Copenhagen climate talks, eight international activists began a fast that lasted 53 days, through the end of the failed summit. They were supported by dozens of people around the world who fasted for shorter periods of time. The
Climate Justice Fast website
says, "Hunger striking is a form of protest unparalleled in its ability to capture attention and catalyse social movements. Throughout history, it has been successfully used to create awareness and mobilize the public behind social causes, and
as the most powerful statement against injustice that an individual can make
.
With all respect and admiration for the dedication and sacrifice of the climate fasters and others who use this tactic (which I never have), I think they misstate the evidence. Hunger striking is certainly a powerful tool of nonviolent action. But it is neither "unparalleled in its ability to … catalyze social movements," nor is it "the most powerful statement … an individual can make." In fact, as the Irish example and the ones that will follow illustrate, a successful hunger strike is never an individual action. It always takes a powerful movement to support and amplify its impact, and it should generally be the culmination of a series of actions and organizing, not the beginning. Gandhi's Salt March catalyzed at least as many people as did his hunger strikes. So did the Freedom Rides, the occupations of nuclear power plants, and numerous other types of protest.
This is not a criticism of the prisoner strikers. They have few options for serious protest, and they have already accomplished a lot – more words have been written and spoken about the SHUs in the last three weeks than in the last ten years, I am sure. But I hope that their supporters will encourage them to think very carefully about their next steps. It's very difficult, nearly impossible, in fact, for prisoners to know how much attention their strikes are or are not getting on the outside. I have had the frustrating experience of supporting people who decide to go on hunger strike in jail, believing it will help them get their demands met, while we are scrambling to get even their hometown newspapers to write one sentence about them. It's demoralizing for everyone.
In this case, I pointed out to one of the solidarity committee members today that I, who am very concerned and somewhat involved already, don't know the name of one prisoner involved in the strike. That's not good, especially when you remember that even Gandhi, an international hero of epic proportion, seldom achieved his (stated) objectives through hunger striking.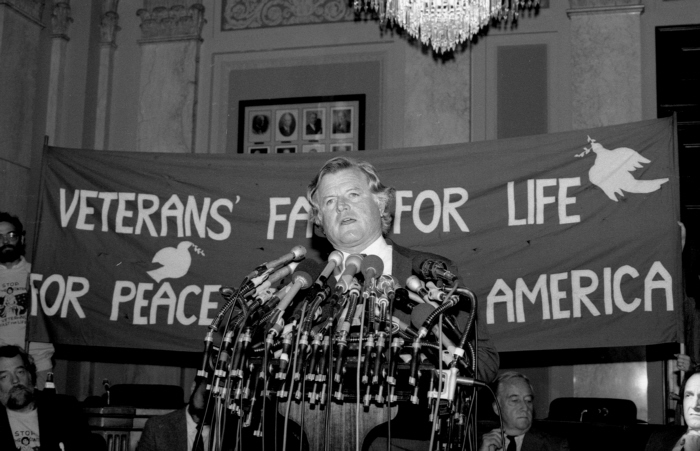 Senator Ted Kennedy speaking at the Veterans' fast
for life press conference.
Here are a few more examples of hunger strikes you may or may not know about:
Veterans Fast For Life:
On September 1st, 1986, four veterans began a water-only "fast for life" on the Capitol steps in Washington, D.C. They wanted to to draw attention to, and to protest, President Reagan's illegal and extraordinarily vicious wars against the poor of Nicaragua, El Salvador, and Guatemala. They ended the fast on October 18, having gotten a meeting with House Speaker Tip O'Neill, who strengthened his support for hearings on the Iran-Contra scandal.
Troops Home Fast
: On July 4, 2006, CODEPINK and Gold Star Families launched a hunger strike called TROOPS HOME FAST, calling for the U.S. government to bring our troops home from Iraq--FAST. A core group of long-term fasters fasted in front of the White House, in Washington DC. After 28 days of fasting, the group agreed to end their strike when they received an invitation from leading members of the Iraqi Parliament to meet with them in Jordan to discuss their plans for peace in Iraq. (Again without minimizing the power of this action, you may have noticed that five years later, we still have many troops in Iraq.)
Third World Liberation Front strike, U.C. Berkeley 1999:
Six students began a hunger strike on the lawn of the University of California's administration building for over a week. They were demanding increased funding and respect for the embattled Ethnic Studies program, which had been won by the original Third World Liberation Front in the late 1960s. After a week of spirited demonstrations involving thousands of students and community supporters, and over 120 arrests, the students won nearly all of their demands, including 8 more full-time faculty to be hired over the next few years, a promise to help fund a Center for the Study of Race and Gender; a temporary place for a multicultural student center, space for a mural commemorating Ethnic Studies, student representation in the task force that makes important decisions in the department, and amnesty for the students who were arrested.
Anti-nuclear Fast For Life:
Beginning on Hiroshima Day, August 6, 2003, 13 international activists fasted for 40 days, hoping to catalyze a stronger international movement to end the nuclear arms race.
Diane Wilson vs. Formosa Plastics
: Shrimp-boat captain Diane Wilson went on hunger strike four times during her multi-year campaign to get a zero emissions agreement from Formosa Plastics. But it took more drastic action still to convince the company. In response to the question, "What was the turning point with Formosa Plastics to stop dumping toxins?" she says, "I think it was when I took my shrimp boat out to sink it on top of their discharge point. Up until that point, it was hard to motivate the fisherman, because they were so depressed and they did not believe you could fight city hall. They believed their days were numbered, but when I took my boat out to sink it, I touched them in a place that wasn't in their head; it was in their heart. I got all of those shrimpers to go out in their boats in the middle of a storm, and it was unheard of. I think when Formosa saw that, they realized I had the people behind me and that's when they gave up."
More info
Mitch Snyder and Community for Creative Nonviolence vs. Reagan
: In 1984, homeless activist Mitch Snyder fasted twice to force the
Reagan administration
to renovate a shelter in Washington, D.C. which CCNV had created by occupying an abandoned federal building. The first fast ended on the eve of Reagan's second election when Reagan promised to execute necessary repairs. Reagan failed to follow through on this promise, and CCNV sued to get the repairs made.
Cuban political prisoners
: On April 3, 1972, Pedro Luis Boitel, an imprisoned poet and dissident, declared himself on hunger strike. After 53 days on hunger strike, receiving only liquids, he
died of starvation
on May 25, 1972. Guillermo Fariñas did a seven-month hunger strike to protest against the extensive Internet censorship in Cuba. He ended it in Autumn 2006, with severe health problems although still conscious. Reporters Without Borders awarded its cyber-freedom prize to Guillermo Fariñas in 2006. On February 23, 2010, Orlando Zapata Tamayo, a dissident arrested in 2003 as part of a crackdown on opposition groups,
died in a hospital
while undertaking a hunger strike that had been ongoing for 83 days, in Cuba's "Kilo 8" prison. He had declared the hunger strike in protest of the poor conditions of the prison in which he was held.
Iranian dissidents: On June 12 of this year, Iranian journalist and nationalist activist Reza Hoda Saber died of a heart attack following a 10-day hunger strike at Evin Prison. Saber stopped eating food and later stopped drinking water in protest at the death of his fellow dissident Haleh Sahabi, who died during scuffles with security forces at the funeral of her father.
Tamil hunger striker suspends London protest to attend UN talks
: "Sunday 12 April 2009, Thousands of Tamil protesters converged on central London yesterday as one of two hunger strikers protesting at the continuing military assault on Tamil separatists announced that he was suspending his fast. … Sivatharsan Sivakumaraval, 20, and Prarameswaran Subramaniam, 28, who have set up camp in Parliament Square, have been on hunger strike since 6am on Tuesday. They agreed to take liquids for the first time early on Friday. Sivakumaraval said he had agreed to drink water after being promised he would be able to take part in talks on the plight of Sri Lankan Tamils."
Now you can certainly make your own determinations, but it seems to me that the keys to successful hunger strikes are:
a target that cares (or has to appear to care) whether the strikers live or die
concrete demands that are fairly easy for the target to meet, or at least do not demand an existential change (Diane Wilson was not trying to get Formosa to stop making plastic, for instance)
mass mobilization of supporters
ability to generate a lot of sympathetic media
a campaign that incorporates other tactics leading up to the strike
a way to escalate when their demands are not met
I believe the prisoners' hunger strike has a lot of these elements, but what it does not have yet is mass mobilization, which is probably what it will take to make the CDCR care whether the prisoners live or die. I'm also not sure the prisoners have thought about how they can escalate if they do not win quickly.
They have demonstrated an impressive ability to organize across racial lines and among different prisons. Now they may need to slow down, regain their strength and give those of us outside a chance to catch up with them so that their sacrifice will not be in vain.